PROFILE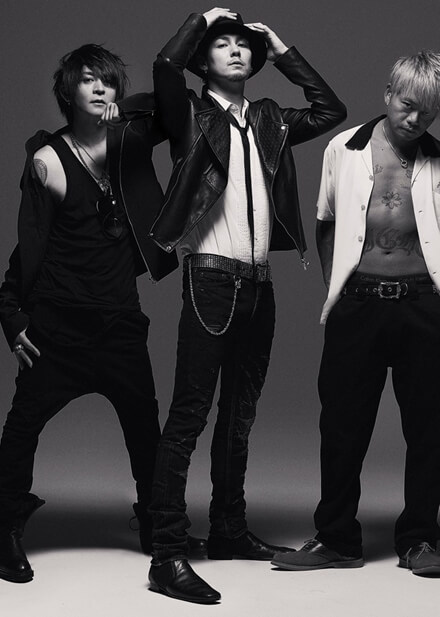 OBLIVION DUST
(L to R / RIKIJI , KEN LLOYD , K.A.Z)

KEN LLOYD / Vocals
K.A.Z / Guitar & Programming
RIKIJI / Bass

Formed in Tokyo Japan, OBLIVION DUST exploded onto the Japanese music scene in 1996.
Establishing themselves from the very start as a truly ferocious live band, their natural talent was evidenced by the fact that they signed to AVEX TRAX, Japan's biggest major record company after their first ever live performance.

By rehearsing and making their first demo in Scotland, playing at local club shows such as "The Whisky" and "The Roxy" whilst recording their debut album "Looking For Elvis" in Los Angeles, OBLIVION DUST was Japan's first truly international rock band.

Led by UK born singer KEN LLOYD, and with songs in both English and Japanese, OBLIVION DUST was a completely unique band, capable of reaching a much larger audience than other domestic acts.
With guitarist K.A.Z churning out classic heavy guitar riff's that other Japanese bands could only dream about, OBLIVION DUST quickly gained a strong fan following, whilst also gaining respect from many established international artists such as Paul Raven and Jordie Walker (Killing Joke), Steve Jones (Sex Pistols), Billy Duffy (The Cult), Dave Kushner (Velvet Revolver) and Joey Castillo (Queens Of The Stone Age).

Major Japanese artists such as J (LUNA SEA) and Hide (X JAPAN) also jumped on the band wagon, and K.A.Z would later be recruited by Hide for his own solo band – HIDE WITH SPREAD BEAVER.   This move would further boost OBLIVION DUST's climb.

With original bassist Derek Forbes rejoining his former band SIMPLE MINDS, OBLIVION DUST brought in new bass player RIKIJI to the line up for their 2nd album "Misery Days".
True to the band's unorthodox ways, RIKIJI's audition was held in front of a crowd of 16,000, as the band opened up for THE PRODIGY in Tokyo.

With the release of their 3rd album "Reborn" in 1999, OBLIVION DUST broke into the mainstream.   Featuring DJ SWAMP (Beck) and ridden with expletive samples, lead single "You" was a big hitm and the band injected a giant dose of punk rock attitude desperately needed in the then polite and dull Japanese rock scene.

With the band flying high, the Japanese media began touting OBLIVION DUST as the next big thing.   But shortly after the release of their 4th album "BUTTERFLY HEAD", on the verge of major breakthrough success, OBLIVION DUST suddenly broke up, causing shock waves among fans and media alike.
The sudden announcement and effect has since often been compared to that of when Jane's Addiction suddenly broke up in the early 1990's.

After disbanding, each member would go on to find success in their newer projects.
KEN LLOYD teamed up with INORAN (LUNA SEA) to create FAKE?, while K.A.Z began SPIN AQUA with Anna Tsuchiya, as well as later joining L'arc en Ciel singer HYDE's solo project.   RIKIJI returned to his own original band – MEGA 8 BALL.

Due to the infighting that caused the band to initially break up, many thought that OBLIVION DUST would never return to the scene again, but in 2007, OBLIVION DUST once again shocked many by announcing a full and complete comeback with their 5th album "OBLIVION DUST"

Whilst OBLIVION DUST began their comeback, each member also continued their own individual projects such as FAKE?   and MEGA 8 BALL.
K.A.Z started up a brand new band with HYDE called VAMPS, and has since toured the US with mainstream US bands such as PAPA ROACH and SIXX AM.

OBLIVION DUST released their 6th album "9 Gates For Bipolar" in 2012.   With hints of EDM mixed into their core rock sound, OBLIVION DUST once again proved that they were ahead of the game in incorporating the freshest of sounds, and the album proved successful in bringing in a whole wave of newer fans, while extensive touring for the next few years further built up their fanbase.

In 2017, OBLIVION DUST continues to set the bar in both sound and live performance.   Having just released a bruising and violent new EP "DIRT" to mark their 20th anniversary, OBLIVION DUST still command respect from both fans and musicians alike.